The DREAM (Development, Relief and Education for Alien Minors) Act narrowly passed in the House Wednesday evening by 216-198. Early Thursday morning, Democrats decided to postpone voting on the Act in the Senate, so for now the debates have settled down.
The DREAM Act is, simply put, a proposal to allow undocumented students "in good moral standing" who were brought to America under the age of 15 (and has lived here for at least 5 years) the right to have a conditional legal status (for six years)  while attending university or serving in the military. After filling these requirements, they will be able to apply for a permanent legal status. 
I logged onto Facebook on Wednesday night and a few enthusiasts were proclaiming the good news on the statuses. I liked all of them. I don't mean to push people to think one way or another about this proposal but I can't help but be stirred in towards the supporting side because this issue of undocumented students really hits home for me. Home, as in my high school back in Southern California. I distinctly remember towards college application season, I would be complaining about CollegeBoard, the annoying generic questions, etc. etc. and certain classmates of mine would silently mutter how they couldn't even apply for any financial aid and thus might not be able to attend college.
You can guess that shut me right up. A lot of these classmates, friends, stayed strong nonetheless. They tried applying for scholarships but many scholarships required they must be a U.S. Citizen. They spent hours on the phone with financial aid reps from different universities but the result was ultimately a growing frustration and a dwindling hope. Many of these friends of mine are attending college now, but a great portion if not all are paying full tuition because they have to apply as an international student. And these friends are smart. They were the ones everyone went to during lunch when word got around about a pop quiz the following class period.
But there is one particular friend of mine who is in danger of having to move back to Korea (due to complicated issues regarding his status), although he is a high school graduate and has hopes of going to college like everyone else. Isn't it surreal that I have to ask him if I'm going to be able to see him when I go back to California for winter break? This uncertainty of having to go back to a country in which he feels no familiarity to is heartbreaking, even for me. Like many undocumented students today, he didn't come to America by choice - he came with his parents. As far as he's concerned, America's his home. He even shuts his ears every time I play a little k-pop - heck, he's more American than me. 
"Let's give the dream kids an opportunity. They are American in every way but a piece of paper."

Rep. Luis V. Gutierrez, D-Ill

There are lots of arguments being thrown around. Supporters say that passing the DREAM Act would improve our economy, promote good behavior from students, and put well-able, talented, and educated people in our work field. Opponents say this Act gives validity to an illegal act, increases competition in an already tough job industry, messes with taxpayers' money, and floods community colleges. 
"Any program like this is going to be a magnet that attracts people here illegally. It's enough that we're providing a full school education at taxpayers' expense. Now we're supposed to provide college education? Our colleges are already overcrowded. People who're trying to get their kids through school save their money and take out expensive loans. And now we're supposed to provide subsidised, taxpayer-funded secondary education college for people who don't have a right to be here?" 

Dan Stein of the Federation of American Immigration Reform 
I suppose we can go on and on about this side and that side, as in many cases involving a controversial piece of legislation. But I keep thinking of my friend who keeps reassuring me that all our friends will have a get-together this winter through smiley face emoticons when he's not even sure if he will be forced to be halfway across the world by then. He mentioned that if the DREAM Act passed, there would be some sort of hope for him being able to stay here.
You don't have to know an undocumented student to feel a connection to this issue. As college students, we take a lot of what we have for granted. As NYU students especially, it's probably easy to forget that not everyone can live in New York City, get an education, apply for internships and jobs, and perhaps most importantly, have hopes and ambitions for what we can achieve in a country we call home among the people we love.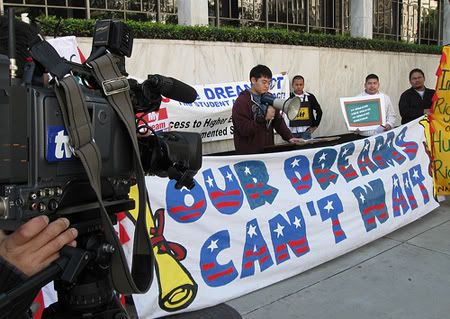 Amen. Especially for my friend and many others in his situation, his American dream can't wait any longer. Time is running out.
(Source: BBC)